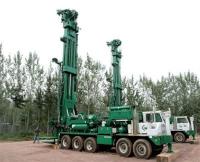 Greka Drilling Limited is pleased to provide an operations update to 31 December 2013.
OPERATIONAL HIGHLIGHTS
◾ 12 wells drilled in Q4 2013, 24 wells drilled in H2 2013; ◾ 15,152m drilled in Q4 2013, 32,570m drilled in H2 2013; ◾ Vertical wells averaging 14 drilling days at 1,091m MD, resulting in an average of 79m drilled per day (compared to 35 days in the same period in 2012 with an average MD of 840m, that is 24m drilled per day on average); ◾ The fastest horizontal well took 36 drilling days for 1,882m (average of all horizontals drilled is 59 days) in Q4 2013 (compared to 65 days to drill radius bend and lateral section in the same period in 2012); ◾ Directional wells averaging 12 drilling days (average MD 1119m) resulting in an average drilling rate of 96m per day, a substantial improvement on the Q3 2013 average of 24 drilling days; the fastest directional was drilled in 7 days (MD 752m), achieving 116m per day as average. No directional wells were drilled in 2012; ◾ Experimental horizontal well Anping 1 was drilled for CNPC to a MD of 1,867m; max TVD was 1,060m, which makes it the deepest horizontal well drilled by the Company to date. A total of 3,084m were drilled in 62 days (averaging 50m per day); ◾ 5,400 man hours of driller skills training conducted in Q4 2013; and ◾ Zero lost time due to injury in Q4 2013.