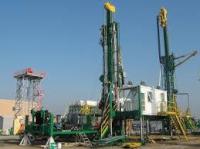 Greka Drilling Limited says that the five GD75 rigs to be utilised for the 100 well drilling contract with Essar Oil have arrived in India.
The Company mobilized five GD75 rigs from its existing fleet which have arrived at the East Coast Haldia Port at Calcutta, India, on schedule. Preparations are now in progress to bring the rigs to Durgapur during August 2014. The first wells are expected to spud in September 2014 and the drilling campaign is expected to last approximately 12 months.
Greka Drilling has already ensured that the infrastructure needed to support this drilling campaign in Durgapur is in place and the training of its local drill teams is nearing completion. Phase I of Greka Drilling's extensive theory training programme for new inductees at the University of Petroleum & Energy Studies, at Dehradun in North India, was successfully completed in July 2014.
These inductees will now undertake Phase II practical training at Durgapur. The local teams are being complemented and lead by the experienced veteran Greka Drilling personnel to ensure a successful execution.