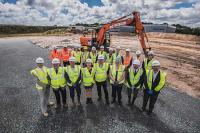 Ground has been broken for a multi-million-pound landmark headquarters on the Enterprise Zone at Beacon Park, which will enable a major energy sector employer to expand further in the area.
Great Yarmouth Borough Council is developing a new Great Yarmouth base for Proserv on a prominent site at the park, a growing hub for the energy sector which is owned by the borough council.
The development, to be called Artemis House, will enable the business to consolidate and grow its Great Yarmouth operation under one roof. It currently employs about 190 staff at three sites across the borough. Most of these employees already live within 10 minutes of Beacon Park.
To celebrate the traditional ground-breaking ceremony, the council's political group leaders gathered on-site, part of the Great Yarmouth and Lowestoft (New Anglia) Enterprise Zone, together with representatives of Proserv, New Anglia Local Enterprise Partnership and construction contractor Morgan Sindall.
The borough council has invested GBP 4.5 million in the development, with an additional GBP 1.5 million coming from New Anglia LEP's Growing Places Fund. Proserv is contributing up to GBP 2 million towards the fit-out for their requirements and will be taking a 20-year lease on completion.
The development will be completed in early 2018 and will form another part of the borough council's important property portfolio, generating significant rental income which is used to help support vital public services.
In a joint statement, the council's political group leaders, Cllr Graham Plant, Cllr Kay Grey, Cllr Trevor Wainwright and Cllr Adrian Myers, says, "Over the coming months, people travelling through the park on the new link road will see this landmark building take shape: a clear symbol of this council's close work with partners to support sustainable economic growth and unlock its benefits for communities."
"This ground-breaking is another chance to celebrate what the development will bring to the borough. Importantly, these skilled jobs, mostly held by local people, will continue to be based within the borough, supporting the local economy and prosperity. In addition, Proserv will have the capacity to invest and expand further in this purpose-built base, creating even more local job opportunities. We would like to thank the team who helped to bring this development into fruition," they conclude.
Comprising 65,000 square feet of modern office and production floor space, the building, flanking the new link road, will be one of the largest commercial buildings in terms of floorspace ever constructed in the borough. There is also an option to add a further 20,000 sq ft of workshop capacity at a later date.
Simon Harvey, Head of Operations at Proserv, says, "This is a significant milestone in the development of our new facility which will serve as a global hub and Centre of Excellence for our subsea communication and controls activities. We would once again like to extend our sincere appreciation and thanks to Great Yarmouth Borough Council for their continued support in getting us to this exciting stage."
Chris Starkie, Managing Director of New Anglia LEP, says, "This is great news for Proserv, their employees and the wider economy. It's also a real shot in the arm for our all-energy coastline – within which Proserv is a key supplier and employer – and further evidence of the significance of our Great Yarmouth and Lowestoft Enterprise Zone in attracting and retaining investment in the East."
Saul Humphrey, managing director of Morgan Sindall's East Anglia business, says, "We're pleased to have broken ground at this new commercial warehouse site. Once complete, the building will provide Proserv with the office, storage space, and specialist facilities they need, helping to deliver real efficiencies for the business."
"The 6,050-square-metre warehouse is one of the largest steel frame buildings being built in Norfolk at the moment and we're working closely with the council to deliver this important and ambitious scheme. Morgan Sindall has experience delivering projects of this nature and we're looking forward to completing the scheme in spring 2018," adds Humphrey.