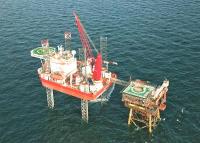 Gulf Marine Services (GMS) announced today at OTC Asia, Kuala Lumpur, that it will bring a fleet to South East Asia, with this a new offshore solution for the region.
GMS, which successfully had a premium listing on the London Stock Exchange earlier this month (March), recently established an office in Singapore as part of a strategic expansion plan, and has offices in the United Arab Emirates, Saudi Arabia and the United Kingdom.
The company operates a fleet of nine SESVs (also known as self-propelled jackup barges/rigs) which is technically advanced and amongst the youngest in the industry, with an average age of nine years compared to 16 years for its peers. GMS builds its vessels at its yard in Abu Dhabi and is building six more vessels over the next three years.