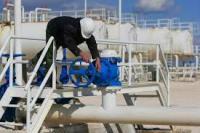 Gulfsands Petroleum provides the following update on drilling activities in Morocco.
Morocco: Rharb Drilling Programme
Drilling operations on the Douar Ouled Balkhair 1 gas exploration well (DOB-1) located within the Rharb Centre Permit in Northern Morocco have now concluded with the DOB-1 well being confirmed as a gas discovery. During testing of this discovery, gas flowed to surface during the well's clean up flow period at rates in excess of 10 million standard cubic feet per day (mmscfpd). DOB-1 has now been suspended as a future gas production well.
The DOB-1 well is the third well to be drilled on the Rharb Centre permit based on the Company's interpretation of 3D seismic survey data acquired by Gulfsands on the permit area in the second half of 2013. The first two wells to be drilled on this permit were also successful in finding gas and flowing it to surface, at wells LTU-1 and DRC-1.
The DOB-1 well was drilled to a Total Depth of 1140 metres Measured Depth and encountered the primary reservoir target interval on prognosis at a depth of approximately 808 metres MD.