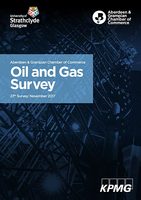 Contractor confidence in the UK Continental Shelf (UKCS) has risen with almost half being more confident about their prospects for the first time since 2013, according to a new industry report.
The findings of the 27th Oil and Gas survey, conducted by Aberdeen & Grampian Chamber of Commerce in partnership with the Fraser of Allander Institute and KPMG, reveal that 49% of contractors surveyed are more optimistic about their activities in the current year, up from 38% since the spring survey.
The survey looked at work in the six months to October 2017, asking firms about their prospects in the year ahead as well as the next three to five years in order to assess trends in exploration and production, decommissioning, renewable and unconventional oil and gas extraction activities both in the UK and international markets.
It found that a net balance of 39% continue to expect a rise in optimism in the year ahead, with almost half (48%) more confident and only 9% less confident; while a net balance of 28% of firms are forecasting an increase in the value of production-related work in the coming year.
The share of contractors working at, or above, optimum levels in their UKCS operations peaked at 79% in 2013 and has been declining steadily over the last three years to a low of 12% last year. However the latest results show this has improved, with 27% of contractors now identifying that they are working at, or above, their optimum levels in the UK.
The survey also indicates contractors' expectations of greater involvement in decommissioning activity over the medium term with 83% reporting potential involvement in the next three to five years. There also appears to be a firming up of opinions on unconventional oil and gas compared to previous years, with 71% of operators/licensees now not predicting any involvement in the UK compared to 40% last year. The number of firms expecting to become more involved in renewables has remained unchanged (54%).
The autumn survey also looked at employment and labour market issues in the oil and gas sector. Less than a quarter (23%, compared to 68% in 2016) of contractors reduced their employment in 2017, while almost half (47%, compared to 24% in 2016) held employment stable. A total of 30% (compared to only 8% in 2016) increased employment. Looking forward, the survey suggests a continued positive outlook with a net balance of contractors (36%) expecting a rise in employment across both permanent and contract staff.
James Bream, research and policy director at Aberdeen & Grampian Chamber of Commerce, says, "The underlying data suggests that rather than an industry with 'cautious optimism' we actually see a picture of significant diversity with some companies buoyant and performing well while others remain fragile. It does look like the worst is likely to be over, at an aggregate level, with 60% of firms believing that the industry has already reached the bottom of its current cycle and a further 24% predicting this will happen within the next 12 months. However as activity levels and revenue remain lower for many compared to three years ago business models for some may be simply unsustainable."
Moray Barber, partner at KPMG, says, "We are proud to partner with Aberdeen & Grampian Chamber of Commerce on this survey, which has long been a reliable barometer for the current health and future outlook of the oil and gas industry in the UK. This survey provides some reassurance that the industry, in general, is in a more stable condition. Companies have been fully focused on driving efficiency across all business areas, which has included a period of intense cost cutting and, in some cases, a complete reassessment of the effectiveness of current business models to survive the lower for longer oil price. As a result, the industry has undoubtedly undergone some transformational change to ride out the downturn."
Mark Andrews, KPMG partner and UK head of oil & gas, says, "With the industry enduring a persistently lower oil price and much uncertainty in recent years, new investment has slowed and both productivity levels and production volumes have taken a hit. However, this latest report on the current situation in the UK oil and gas sector provides some reassuring signs that confidence is growing in the industry."
----
Following the news of the results of Aberdeen Chamber of Commerce's survey regarding an upturn in business sentiment for the oil and gas sector in the north-east of Scotland, Scott McClurg, Head of Oil & Gas for HSBC's corporate banking team, comments, "It is encouraging to see such positive sentiment coming from oil and gas businesses based in the north-east of Scotland. Part of this can be attributed to underlying confidence around oil prices appearing firmer and more certainty around cash-flow for operators. Progress towards balancing supply and demand and inventory levels is also very encouraging."
"We are seeing evidence from our customers of improved activity levels, impacting the immediate short-term and medium-term when compared to recent years. While the news is positive, it is important for the sector to capitalise on this momentum and turn sentiment in to lasting, tangible benefits for the North Sea oil and gas sector," McClurg adds.