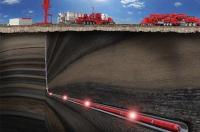 Halliburton's Production Solutions business line has introduced Spectrum℠ Real-Time Coiled Tubing Services. This suite of services is designed to deliver more accurate, more complete downhole measurements, and exceptional reliability—leading to a higher return on investment for completion and intervention operations.
Spectrum℠ Real-Time Coiled Tubing Services comprises two complementary offerings: Spectrum Diagnostic Services and Spectrum Intervention Services. These services integrate Halliburton's coiled tubing with down-hole measurement tools, fibre-optic sensing and telemetry, to deliver complete, accurate real-time data. Operators are better able to minimise uncertainty, assess reservoir performance, and monitor wellbore conditions, helping them significantly improve well intervention operations and production.
Spectrum Diagnostic Services delivers fibre-optic distributed sensing through coiled tubing to assess well productivity and completions effectiveness by identifying fracture initiation points across the wellbore and profiling production. An alternative to traditional production logs, Spectrum Diagnostic Services can monitor a time series of data across the entire wellbore as opposed to single snapshots in time. Applications for Spectrum Diagnostic Services include determining stimulation cluster efficiency, fracture mapping, production profiling, leak detection and assessment of wellbore integrity.
"Spectrum Diagnostic Services is one of the first technologies to provide this detailed analysis on a per stage basis for the entire length of the wellbore," says Ahmed El Demerdash, vice president of Halliburton's Production Solutions business line.
Spectrum Intervention Services delivers real-time monitoring from a bottom-hole assembly, with modular sensors for measuring depth correlation with casing collar locator and gamma ray, internal and external pressure and temperature, tool inclination, torque, tension, and compression. Compared to standard operations where only surface parameters are available, downhole insight from Spectrum Intervention Services helps reduce operational risk and increase precision to deliver better wells. These services have multiple applications, including milling, wellbore cleanouts, fishing, perforating, stimulation, and completion equipment manipulation.
"In this economic environment, customers are evaluating the effectiveness of completion methods and looking to minimise the number of trips downhole," El Demerdash adds. "They also want to identify areas of greatest production contribution to determine how best to extend the life of the well. Spectrum Real-Time Coil Tubing Services enables customers to improve connectivity to the reservoir and reduce uncertainty. These services are designed for customers seeking to increase returns on every well."