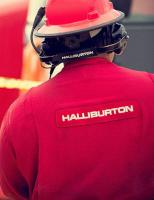 Halliburton has announced the release of BaraShale™ Lite Fluid System, a high performance water-based fluid designed to maintain full salt saturation with reduced density, help prevent lost circulation and minimise waste disposal costs.
Operators in formations containing salt layers and low fracture pressure, such as the Spraberry Formation in the Permian Basin, face major challenges while drilling. For example, many conventional water-based fluids cause extreme washout and dissolution of the salt requiring increased fluid and cement volumes, as well as the need to place additional strings of casing to secure the wellbore. The low fracture pressure also increases the likelihood of encountering lost circulation and wellbore influxes.
BaraShale Lite fluid helps operators overcome these challenges using a proprietary additive that tightly combines the base fluid, which consists of brine to prevent salt washout, and oil to lighten the mud weight. Operators can mix the fluid quickly on-site instead of in large batches and reuse fluids for maximising their operational efficiency. It also helps ensure proper zonal isolation to increase completion efficiency and prevent the loss of cement in the formation.
"Other service companies have tried to address these challenges in the past with little success. The launch of BaraShale Lite fluid is a good example of how we listened and responded to our customers' needs by bringing a superior solution to market," says Bradley Brown, vice president of Halliburton Baroid. "This addition to our portfolio is well suited to help operators reduce costs without sacrificing fluid performance in unconventional and mature fields."
In the Delaware Basin, an operator recently deployed BaraShale Lite to reduce waste handling costs and salt washout issues in the intermediate section of their well. The fluid resulted in a higher rate of penetration than the operator's average, decreased the occurrence of washout and downhole losses compared to previously drilled wells in the same location and reduced waste haul-off costs by 70%.