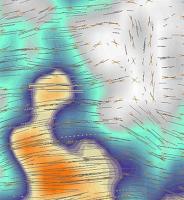 CGG GeoSoftware has announced the release of HRS 10.1, reflecting the company's goal to continually improve reservoir characterisation technologies for geoscientists. Known for ease-of-use, HampsonRussell software enables world-class advanced geophysical interpretation and analysis for reducing the risks and costs associated with exploration and production.
HRS 10.1 introduces new methodologies to calculate the uncertainty of azimuthal analysis and display the results. It includes new capabilities for the most efficient use of computer processing threads. Automated inversion parameter tests allow users to quickly select the best values, optimise the number of runs needed for a reliable result, and potentially reduce overall inversion time dramatically.
A new feature which geoscientists will find particularly useful is AVO quick modelling, in which a table of P-wave, S-wave or Density values can be entered for up to six layers. Users can then drag and drop the curves, interactively update a synthetic AVO offset or angle seismic gather display in real time, and show results as a graph.
To enhance interpretation of inversion attributes, automated analysis can now distinguish clusters of cross-plot points from either well logs or seismic volumes and interactively display those cluster zones throughout the seismic volumes. In addition, coloured zones from rock physics templates can now also be interactively displayed throughout seismic volumes and as geobodies in 3D.
Kamal al-Yahya, Senior Vice President, GeoSoftware, CGG said: "The philosophy behind our development of HampsonRussell software is to make sophisticated geophysical analysis accessible to every geophysicist. With the new advancements from this release, the software is more intuitive and interactive. The continuous development of our HampsonRussell suite of software is critical to our plans and our next release, which will also include several new features, is planned for year end."