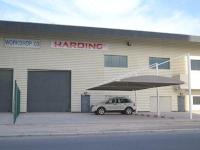 Harding is now strengthening the world's biggest service network by opening a new service station at the heart of the maritime industry in Dubai. 'Our goal is to further improve the quality of the services we provide for our customers in the Middle East,' says Regional Director Tommy Hivand.
After using a local partner to provide services for Harding's customers in the Middle East since 2006, Harding has now opened its own state-of-the-art service station in Dubai.
'Harding has extensive experience and expertise as a product supplier and service provider in the field of maritime life-saving equipment. By handling our service work ourselves, at our own service station using our own expertise, we want to provide even better service to our customers in the Middle East. This investment shows that the Middle East is an important market for Harding and that our commitment in the region is a long-term one,' says Tommy Hivand, Regional Director for Africa, the Middle East and India.