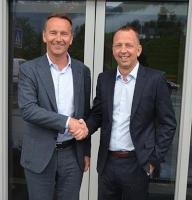 The PALFINGER Group has signed the acquisition of 100% of the shares in Herkules Harding Holding AS and thus, the globally operating Harding Group. The seller is the Norwegian private equity fund Herkules. Harding is one of the suppliers of lifesaving equipment and lifecycle services for maritime installations and ships. Through this acquisition, PALFINGER will add new products and an international service network to its marine business. The final closing of this acquisition of Harding by PALFINGER is contingent on the approval of the authorities. Both parties have agreed not to disclose the purchase price.
Styrk Bekkenes, CEO of Harding, is very enthusiastic about the acquisition.
"PALFINGER is a perfect match for Harding. Our combined range of products and services will be unique in today's marine industry. We will stand stronger together and see huge advantages for both the equipment and service side of our business. For our customers, this will be a huge advantage, as we in the future will be able to offer services on more than one type of equipment during the same service assignment," Bekkenes elaborates.
The acquisition is the largest carried out in the history of the PALFINGER Group. PALFINGER's marine business will almost double its business volume and, with more than EUR 300 million, contribute substantially more than 20 per cent to the Group's revenue in the future. The service segment would gain in importance immensely, and help to reduce PALFINGER MARINE business' dependence on the oil price and therefore the investment propensity of the oil industry. With Harding, PALFINGER will come a huge step closer to its strategic aim of becoming an integrated supplier of marine deck equipment with global service locations.