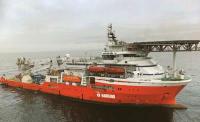 Harkand has commenced decommissioning work in the United Kingdom Continental Shelf supporting Maersk Oil UK's work in the Leadon field.
Earlier this year, the IRM firm secured a multi-million pound 12-month frame agreement with Maersk Oil in the region for the provision of its two dive support vessels (DSVs), the Harkand Da Vinci and Harkand Atlantis as well as supporting onshore and offshore personnel.
This new award will see Harkand deliver project management and engineering services to the Danish owned oil and gas company around their drill rig programme for subsea well plug and abandonment.
The scope of work which is being undertaken by the Harkand Atlantis includes barrier testing at 13 trees, removal of production and gas lift spools at trees and towhead ends along with power and control jumpers and mattress recovery. The works also involves flooding and disconnection of a 4" gas import flowline.