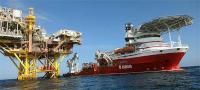 HARKAND and its local consortium partner TOS Angola Lda has secured a three-year contract to deliver inspection, repair and maintenance (IRM) services in Angola for a major international oil company operating in the West Africa region.
The recently upgraded multi-purpose dive support vessel (DSV) Swordfish has been mobilised to support the project and provide air, surface gas and saturation diving services for the work in Cabinda, Angola.
Following the recent $10.5million upgrade to the diving systems, the DSV Swordfish is fully compliant to the highest standards of the International Marine Contractors Association (IMCA) including a 15-man diving system, 3-man bell, self-propelled hyperbaric lifeboat (SPHL) and a dedicated hyperbaric rescue facility (HRF).