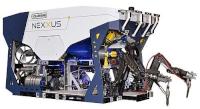 Technology from Harris CapRock Communications, a global provider of managed communications services for remote and harsh environments, is enabling Oceaneering International, Inc. to remotely pilot and automatically control its NEXXUS remotely operated vehicle ROV.
Harris CapRock is providing satellite bandwidth and service to operate the ROV, which enables the pilot to execute assignments ranging from simple video monitoring to highly complex vessel inspection tasks. The satellite link enables Oceaneering to pilot the ROV from offshore, from another vessel, or from an onshore command centre.
Harris CapRock's innovative data/video communications technology was originally developed to aid technical support personnel onshore to help diagnose faults offshore.
"Oceaneering is a technological leader that continues to find new ways to leverage the bandwidth provided by Harris CapRock," says Tracey Haslam, president, Harris CapRock. "The Gulf of Mexico's remote and harsh environment is an ideal fit for our services."