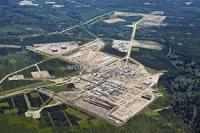 Harvest Operations Corp. has reached an agreement to sell its 100 percent ownership in North Atlantic Refining Limited (NARL) to SilverRange Financial Partners LLC (SilverRange) of New York, New York.
The sale includes NARL's Canadian refining and marketing businesses in Newfoundland. The refining business is comprised of a 115,000 barrel-per-day crude oil refinery in Come By Chance, Nfld.
while the marketing business includes gas stations and other assets that sell petroleum products to local markets. Terms of the sale were not disclosed.