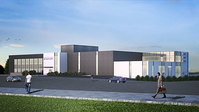 Hatteland Display has started its relocation to a brand new headquarters in Aksdal on the west coast of Norway. Located almost 50 kilometres west of its original HQ in Åmsosen, Hatteland Display's new home has been selected to support its technology growth strategy and to ensure better links and shipping access that will further strengthen its commitment to world class delivery for partners and ship owners globally. The move is expected to be completed in early December 2017.
Hatteland Display's entire Norwegian operation is moving to the purpose-built building on Aksdal Business Park, which is located just over 20 km from the major town of Haugesund and its international airport Karmøy, and approx. 80 km from Stavanger and Sola airport. With a total capacity of 4,000 m2, the building houses production, warehousing and all office functions, in addition to a state-of-the-art R&D facility with lab and extended testing areas, which will enable Hatteland Display to evolve its extensive technology portfolio with diverse new products.
"With extended R&D and testing facilities, our new HQ is a catalyst for the further development of innovative solutions that will introduce further operational efficiencies and safety benefits to vessel and fleet operations. While creating a strong platform for future growth, the investment in our new facilities signals our commitment to supporting the business and operational needs of our customers and strengthens our position as a key technology partner in the industry," says Trond K. Johannessen, President and CEO, Hatteland Display.
Hatteland Display's all-new production facility enables a highly improved product flow, which combined with the new, modern warehouse and improved transport links will improve on its already strong track record of meeting customer demand for delivery when and where needed. The new office space is home to the entire sales, product management, purchasing, planning & admin functions from Åmsosen. All R&D, sales and administration functions at Hatteland Display's Lysaker office near Oslo continue as before.
"The move has been intricately planned to ensure that all of our customers and partners experience no delays, communications or service issues. Our production, operation and deliveries will continue un-interrupted and on-time. We are just over a month into the move and we are on schedule to have completed it by early December," says Lars Skjelbred-Eriksen, Vice President Sales & Marketing, Hatteland Display.