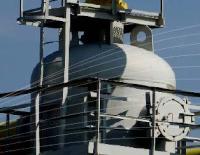 Hawkley Oil and Gas Limited provides the following update concerning the loss of gas production from Well 201 on the Sorochynska licence in Ukraine.
In November 2014, the Sorochynska 201 well experienced a sudden significant decrease in production. Investigations identified that the change in performance was due to water influx. Production ceased during December whilst investigations into possible remedies continued.
Earlier this month the supply and installation of additional compression equipment was completed in an effort to resume production. Testing and commissioning of the additional equipment was carried out successfully, however the gas volume and pressure at the inlet was not sufficient for the compressor to continue operation.