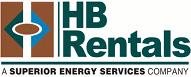 HB Rentals, a Superior Energy Services company, has installed an end-to-end package for BHP Billiton, consisting of offshore accommodation modules and operating essentials for water, sewage, power and lighting.
The BHP Billiton project is in the Angostura Field, offshore Trinidad and Tobago. The installation is on the fixed platform Kairi 2 and supports a workforce of 72 personnel. HB installed its fiberglass stackable modules, consisting of a total of eight sleeper and general purpose buildings. The temporary living-quarter complex required local HB engineering design support to ensure the complex did not violate the structural integrity of the platform and to custom design platforms and stairs for ease of access.
HB's Trinidad-based project management team planned for the volumetric sizing and installation of the operating essentials necessary for daily onsite living and working, including fresh water supply, sewage management, power generation supply and lighting, as a comprehensive end-to-end package.