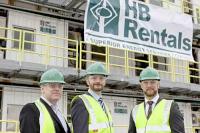 The project will see the company provide an end-to-end solution for the design, engineering, manufacture, supply, installation, commissioning and routine maintenance of a customised temporary living quarter (TLQ) complex on board Prosafe's semi-submersible accommodation vessel, Safe Boreas, currently located off the coast of Orkney, Scotland.
The scope of work entails a fully customised accommodation complex for 40 persons on board (POB) based on double occupancy cabins with en-suite wet rooms. The package includes a local equipment room (LER), locker/changing room facilities, A60 stair tower and link corridor connecting the temporary living quarters with the existing permanent living quarters.
Upgrade work will also be carried out including data cabling and installation of Hydrogen Sulphide (H2S) gas detectors, which is not a common requirement in the North Sea where Methane (CH4) gas tends to be more prevalent.
The modules will be linked and stacked over three levels to form an enclosed living quarter complex, providing increased safety and comfort for offshore workers by reducing time spent on the main deck and offering protection from the elements.
HB Rentals' responsibility also extends to the delivery of the full package to Safe Boreas at Scapa Flow following trial assembly and customer acceptance onshore at its facility in Sauchen, Aberdeenshire. This will mitigate any potential issues prior to final installation, hook-up and commissioning on the vessel.
Norman Porter, managing director, HB Rentals Limited says, "This year will mark HB Rentals' 40th anniversary so we are thrilled to be celebrating with the announcement of this project and look forward to working closely with Prosafe over the coming months. We pride ourselves in our ability to offer tailored solutions for our clients to ensure their requirements are met, and this project is just one example of this."
HB Rentals was awarded the contract following a detailed technical commercial evaluation, which took place over several months. The HB Rentals TLQ is contracted on the Safe Boreas for work through 2017.
Karl Dickinson, senior manager Client Accounts, Prosafe says, "We would like to thank HB Rentals for responding to the TLQ project in a very timely and professional manner. Working closely with HB Rentals, we were able to provide a technical solution that demonstrates our ongoing commitment to find innovative and cost efficient solutions to our end-client."