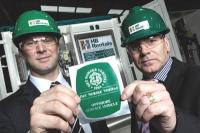 Offshore accommodation and workspace specialists, HB Rentals, has become one of the first companies in the UK to achieve a newly revised industry standard for certification of offshore equipment.
The revised DNV 2.7-2: 2013 standard for offshore service modules from global Offshore Certification Body, DNV GL has been achieved by meeting strict criteria in the design and manufacture of service modules suitable for hazardous area operations. The certification is a collation of international requirements and standards applicable to temporary and transportable equipment.
Offshore Service modules provide a safe environment within a hazardous area for personnel and equipment and can be configured for use in data acquisition, mud logging and as laboratories, offices, and other specialist applications. The first batch of newly certified units are to be deployed to operations in Brazil and Trinidad where they will be incorporated into the local hire fleet and introduced to the local markets.