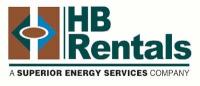 Offshore and onshore accommodation specialist, HB Rentals, a Superior Energy Services company, introduced its Elite Series, a unique, in-house manufactured wheel-mounted accommodation fleet for the onshore market. This innovative new design combines customer feedback with modern engineering to produce a higher-quality, better-constructed and more comfortable living solution.
"Our clients and their employees spend more than half their adult lives living and working at the jobsite," said John Nagel, vice president of product development, HB Rentals. "We believe they deserve a quiet, comfortable and safe place to work and sleep."
The custom-built modules, offer superior quality and efficiency, reducing outside noise by 20 percent and improving climate control by utilizing premium insulation, commercial-grade insulated doors and double-insulated windows.