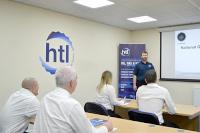 HTL Training Services provides the industry with Health and Safety courses that assist in supporting clients in embedding cultures of safety and care. The aim being to equip work forces with the skills and understanding to care about the health, safety and welfare of their employees.
As stated by the UK's Health and Safety Executive (HSE), hundreds of people are killed every year due to accidents at work and over one million people are injured through a lack of health and safety awareness. Training is an essential part of ensuring that you and your staff understand; and are competent in health and safety responsibilities.
Harnessing a wealth of knowledge and experience, HTL's enthusiastic team of instructors deliver training of Health and Safety approved courses from ECITB, NEBOSH, IOSH and QNUK. To name a few; CCNSG Safety Passport and Renewal, ECITB Approved Manual Handling, IOSH Managing Safely and QNUK Level 3 Award in First Aid at Work are all available from HTL Training Services.
Bob Fogerty, Director of Training, HTL Training Services comments, "Health and safety must be an important and integral part of any business. At HTL Training Services we work with businesses to train staff in health, safety and welfare practices, so that staff are able to identify and assess risks, and therefore work towards reducing and preventing workplace accidents. Health and Safety training is a step in the right direction in improving the health and safety culture of a business and avoiding the unwanted costs and distress associated with workplace accidents."
With dedicated training facilities in Northumberland, Aberdeen and Great Yarmouth, HTL Training Services deliver their extensive training portfolio across the UK, and can also bring training direct to a client's site, globally.