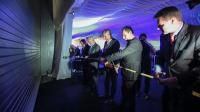 Heerema Fabrication Group (HFG)FG) announces the opening of their new fabrication facility in the south of Poland, Opole. The official opening of the facility is performed by Mr Pieter Heerema.
The growing demand of qualified prefabrication of small offshore steel structures and substructures for HFG's fabrication yards and the need for better facilities in Poland have contributed to the decision for a new built facility. This new facility meets the high quality and safety standards applicable in the oil & gas industry as well as Heerema Fabrication Group's commitment to deliver high-quality standard products and to provide an injury free fabrication environment. The construction of the new facility started in March 2013.
Established in 2008, HFG Polska is located in Opole, in the south of Poland, on the banks of the river Odra. It is located on an industrial estate adjacent to an inland harbour, enabling transport by inland waterway. It is also accessible by road and rail transport.