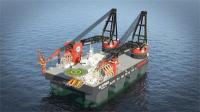 International compressor supplier Tamrotor Marine Compressors (TMC) has been awarded a contract by Sembcorp Marine to supply compressed air systems to the new build Heerema Sleipnir crane vessel.
The scope of work includes manufacturing and delivery of a complete marine compressed air system, including Smart Air service air compressors, service air dryers, control air compressors and control air dryers. TMC's Smart Air compressors save up to 50% of total energy costs compared to conventional compressors.
The contract value is undisclosed.
"Given the size of the Heerema Sleipnir, and the giant operations she will be in charge of, it is vital to have reliable and well-functioning compressors on board. We take great pride in the reliability and energy-efficiency of our compressor systems, and are very pleased that Sembcorp Marine and Heerema Marine Contractors recognise these qualities," says Per Kjellin, managing director of TMC.
The new generation semi-submersible crane vessel Heerema Sleipnir is designed for worldwide offshore heavy lifting. She will be equipped with two cranes of 10,000 metric tonnes lifting capacity each and a reinforced deck area of 220 metres in length and 102 metres in width, which will make it the largest crane vessel in the world.
The dual cranes provide for heavy lifting capacity to install and remove both jackets and topsides. The cranes can also be utilised for installation of foundations, moorings and structures in deep water. Sembcorp Marine in Singapore is constructing the vessel on behalf of Heerema Marine Contractors. The vessel is scheduled for delivery in 2018.
"Heerema Sleipnir will handle multi-billion dollar assets, so maximum operational uptime will be critical. Hence, she will require compressors that are specially designed and built for marine applications," adds Per Kjellin.