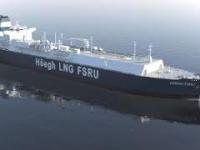 Höegh LNG Holdings Ltd. has signed an agreement to sell the entity that owns the FSRU Höegh Gallant to Höegh LNG Partners LP ("HMLP" or the "Partnership") for a purchase price of USD 370 million, subject to certain post-closing purchase price adjustments.
The existing debt related to the Höegh Gallant is approximately USD183 million and will continue to be outstanding. The purchase price will be settled by the cancellation of a USD140 million demand note from HMLP to Höegh LNG and the issuance of a seller's credit of USD47 million, due in 18 months with an interest rate of 8% per annum. The transaction is expected to be completed by the end of September 2015 and is subject to customary closing conditions.
Höegh Gallant is operating under a charter with the government-owned Egyptian Natural Gas Holding Company ("EGAS") that expires in April 2020. Additionally, HMLP has the right to cause HLNG to charter the vessel from the expiry of the EGAS charter until July 2025 at a rate equal to 90% of the rate payable pursuant to the current charter.