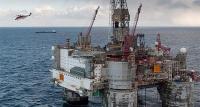 The PSA has decided to investigate an accident involving a dropped object on the Heidrun field in the Norwegian Sea.
This incident occurred on 22 September 2015 during a lifting operation on the production facility's drill floor, when part of a grating came loose. The latter dropped and hit a person working in the area below. It struck the victim on the shoulder, but no serious personal injury has been reported.
According to Heidrun operator Statoil, the grating in question weighed 31 kilograms and fell from a height of eight metres.
The objectives of the PSA's investigation include clarifying the course of events and identifying the direct and underlying causes of the incident.