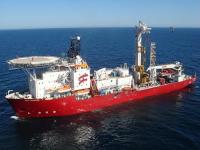 Aberdeen-based Helix Well Ops (U.K.) Limited, a UK subsidiary of international offshore energy service company Helix Energy Solutions Group, Inc., has completed the industry's first riser-based coiled tubing intervention project from a mobile offshore drilling unit (MODU) class light well intervention vessel (LWIV).
The pioneering project was conducted from the company's MODU class mono-hull vessel Well Enhancer. Launched in 2009, the 132-metre long vessel was designed specifically to perform complex operations such as wireline and coiled tubing interventions and has undertaken over 130 well interventions in the North Sea, the Atlantic Ocean in Irish waters and offshore West Africa.
Delivering coiled tubing well intervention from this type of vessel has been anticipated by the oil and gas industry for some time. In the quest to enhance oil recovery and reduce the costs associated with subsea well abandonment, it may be seen as a potential industry game changer due to its cost effectiveness over traditional rig-based methods.
Helix Well Ops is a global provider of subsea well intervention and operates a fleet of three mono-hull well intervention vessels – Seawell, Well Enhancer and the chartered Skandi Constructor. The company works with the oil and gas industry to deliver a range of well maintenance, production enhancement and well abandonment solutions to boost efficiencies.
Earlier this summer, the firm conducted the first live riser-based coiled tubing intervention project from a LWIV, which took place in the central North Sea in water depths of 83m (275ft). The project involved drifting and milling to 4,400 metres and performing a reservoir saturation tool (RST) log before perforating 267 m of reservoir section in four runs, followed by a venturi clean-up.
The coiled tubing unit was provided by Altus Intervention and features its bespoke fatigue management system. When combined and interfaced with Well Ops' patented technology and equipment the unit virtually eliminates the effect of vessel motion and reduces the coil fatigue towards that of a fixed installation or platform.
Initial results of the intervention indicate an increase in daily oil output of over 1,500 barrels of oil equivalent per day (boepd). Helix Well Ops' coiled tubing intervention system is designed to operate in water depths of between 80 m and 200 m and can deploy a variety of coil sizes up to 2-3/8-inch and 20,000 feet in length.
Steve Nairn, Helix Well Ops (U.K.) vice president, says, "This recent riser-based coiled tubing project represents an important step in the development of the intervention industry. It clearly demonstrates the production potential and cost-effectiveness that coiled tubing intervention can deliver. Mobilising a rig to undertake coiled tubing interventions is a complex process and the time and costs involved could outweigh any potential benefit. Unsurprisingly, coiled tubing intervention on subsea wells has been an underutilised practice in the North Sea as a result. However, it is hoped that our proven technology will enable operators to open up opportunities that were previously thought uneconomical or unviable."
"Every business operating in the North Sea has a responsibility to contribute to maximising the recovery of hydrocarbons. Through our fleet of well intervention vessels and innovative technologies we are playing our part in this," adds Nairn.