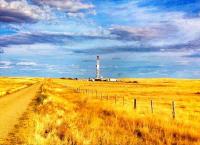 Hemisphere Energy Corporation provide an update on operations in its Atlee Buffalo property in southeast Alberta.
Hemisphere's first horizontal well in Atlee Buffalo was drilled in January 2014 and targeted the oil-bearing Glauconitic sandstones within the Mannville Group.
The well has been on production for over 30 days at an average pumping rate of approximately 100 barrels of oil per day with a 2% water cut and minor associated gas. With the consistent low water cut Hemisphere has been able to tank treat the oil production and truck directly to sales.