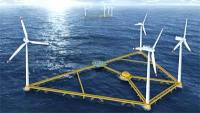 Swedish offshore wind energy developer Hexicon has attracted 11.4 MSEK (1.24 MEUR) in the form of a rights issue to existing owners. Hexicon develops floating platforms for offshore wind energy.
Swedish offshore wind energy company Hexicon, which recently announced an agreement with steel maker giant SSAB to develop offshore wind power platforms at deep waters, wants to accelerate the implementation of the new strategy and demonstrate its innovation by building their first reference power plant in the Baltic Sea.
"This new capital will enable us to intensify our design work and the formation of a Swedish consortium that will build our first platform," said Henrik Baltscheffsky, CEO of Hexicon.