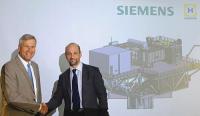 Heerema Fabrication Group has been awarded the Procurement & Construction contract of the Albatros Offshore Transformer Module (OTM®) by Siemens AG. The ultimate client is EnBW Energy.
Koos-Jan van Brouwershaven, CEO of Heerema Fabrication Group, states: "We are very proud that we have been able to secure this contract, which will be the start of many more to come. It is also a great pleasure that this project enables us to continue to build on the strong and pleasant relationship with Siemens. Together with Siemens we will go to any lengths to make this project a success and lay the foundation for many similar projects. This project, together with our recently booked Peregrino project for Statoil, brings us closer to our 25% capacity strategy for 2018 and beyond."
The OTM® is part of the Albatros offshore wind farm. This offshore wind project, with 16 Siemens Gamesa wind turbines, each with a capacity of 7 megawatt, is located 105 kilometres from the coast in the German sector of the North Sea, approximately 100 kilometres from the East Frisian Coast in close proximity of the planned EnBW Energy Hohe See wind farm. The Albatros offshore wind farm covers an area of 39 square kilometres at a water depth of 40 metres.
The OTM® will have a weight of about 1000 tonnes. It is an innovative and efficient design due to the fact that Siemens will deliver the electrical equipment which will be placed at the topside. Construction is due to start in the first quarter of 2018 at the Heerema yard in Zwijndrecht, the Netherlands, in order to be ready for sail away first quarter 2019. The OTM®, with a transmission capacity of 116 MW, is one of the main components of the offshore grid connection. The electricity generated by Albatros and Hohe See could cover the electricity requirements of all private households in Munich - Germany's third largest city - and save around 1.9 million tonnes of CO2 per year.