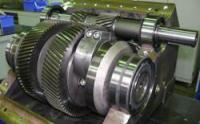 KAMAT has fundamentally revised the mechanical powertrain of its triplex plunger pumps for pressures up to 3500 bar. As a result, the pumps operate much quieter, and the drive systems consume less energy – in particular in combination with a variable speed drive.
According to this principle, KAMAT has developed a new powertrain for its high-pressure plunger pumps and has introduced these drives systems successively in all series.
The reason for this was the wish of some users to find a low-noise high-pressure pump. This requirement was difficult to meet with the proven drive concepts of KAMAT pumps, because the crankshaft – which moves the plunger via crossheads – had to be asymmetrical, in order to accommodate them in the previously undivided housing. The asymmetry resulted in much stronger vibrations, which made it difficult to achieve acoustic decoupling using damping elements due to the vibrations.
The KAMAT designers then developed split gear cases, where a symmetrically balanced crankshaft takes over the power transmission between the drive and the plunger. A newly designed double helical gearing also contributes to the increased running smoothness and reduced noise of the pumps. The gearboxes are from our own production, as KAMAT already took over the former supplier of driveline components in 1983, and since then has been able to maintain the corresponding expertise in-house.
The new design is now used in the triplex pumps with power classes ranging from 80 to 800 kW. It also forms the basis for the drive design of the quintuplex pumps that KAMAT has now developed for serial production, providing significant cost savings from the point of view of the large volume flow user.
Furthermore, the mechanical part of the drive system satisfies the prerequisite for a variable speed control of pumps, which is part of the core competencies of KAMAT and allows plunger pumps to be operated in an energy-efficient and demand-oriented way.