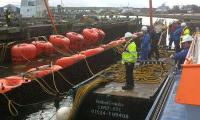 Unique Seaflex (Seaflex), a division of Unique Maritime Group, are delighted to report their key involvement in the re-floating of the only surviving landing craft from D-Day 1944. Working in conjunction with Salvesen UK, Seaflex deployed 230t of buoyancy from its office in The Isle of Wight to the operation in Birkenhead Docks Liverpool.
Ian McDonald, Dive Supervisor @ Salvesen UK observed, "Without the great help from Unique Seaflex this project would not have been possible, and whilst we recognise that there are other lift bag suppliers in the UK, our choice is made for us on this and other projects by the quality of Seaflex equipment and the professionalism and expertise displayed by their staff."
Ben Board, Technical Site Support Manager @ Unique Seaflex commented, "It was a great honour to work with Salvesen on such a prestigious UK heritage project. Whilst we have since diversified into other buoyancy applications for the off shore industry, we built our business on this type of salvage work and it is very much in our own heritage."
The project to lift and save LCT 7074 began in March 2014, almost exactly 4 years to the day after she had sunk. The vessel came out of service at the end of the WWII after numerous successful deployments to the Normandy beaches; she was converted to a naval repair facility for a short while, then became a floating nightclub, and was berthed in Liverpool from around 1950.