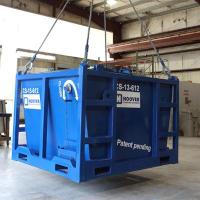 Hoover Container Solutions, a subsidiary of Hoover Group, Inc., has added a new DOT / DNV certified Mud Skip / Cutting Box to its offshore product line for transportation and safe handling of hydrocarbon contaminated drill cuttings to and from offshore platforms.
The mud skips / cutting boxes have patented sliding doors and a removable crank handle, and the units provide a safe and efficient means for containment of drilling waste for transportation to treatment or disposal sites.
The units are designed and manufactured to DNV 2.7-1 / EN 12079 / DOT 49CFR176.340 standards and have certified slings complete with shackles in accordance with DNV 2.7-1 / EN 12079 standards. The design of its patented roll back lid prevents the need for individuals to climb on the units, eliminating the risk of accidents. It is equipped with two, four-inch ports available for vacuum services and a pressure relief valve.