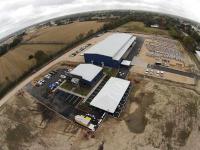 Hoover Container Solutions (Hoover), a subsidiary of Hoover Group, Inc., has announced the grand opening of its new distribution and service center in Scott, La. The opening of this facility will provide an increased ease of operation for Hoover products and services to the Gulf of Mexico and the southeastern United States.
The new distribution and service center sits on nine acres and is comprised of 25,000 square feet of warehouse and 3,000 square feet of office. Overseen by Robbie Monlezun, Hoover's regional operations manager, the new facility currently employs 11 individuals and is expected to more than double within the next six months.
The site hosts the most robust, state-of-the-art tank cleaning equipment in the Gulf Coast and will handle operations such as tank wash, recertification, reconditioning and transportation of intermediate bulk containers (IBCs) including the capability to perform NAS 6 & 8 cleaning of chemical tanks. In addition to the variety of services offered at this location, Hoover's new Louisiana facility will sell and rent stainless and poly IBCs, offshore chemical tanks, ISO tank containers, offshore baskets, cutting boxes and related products.