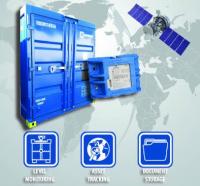 Hoover Container Solutions, a subsidiary of Hoover Group Inc., has unveiled its new Liquitrac Tracer™.
The Liquitrac Tracer is a battery-powered GPS unit that can be easily attached to any of Hoover's comprehensive product line offerings to track asset location – domestic or internationally, even in the most hazardous environments.
The ATEX-certified unit is equipped to support calling-based movement, meaning immediate notification of movement of a GPS or GPS-equipped unit. The unit features prolonged battery life to ensure customers receive reliable coordinates to stay connected to their entire fleet twenty-four hours a day, seven days a week.
"Hoover is dedicated to providing our customers with innovative and quality solutions designed to last," said Jake Rippstein, VP Technology, Hoover Container Solutions. "Our Liquitrac Tracer certified GPS tracking device is designed to deliver reliable coordinates to our customer's operating internationally. We believe the addition of this product and tracking service will not only enhance our customer's operations but will also allow Hoover to better provide service to our partners operating throughout the world."