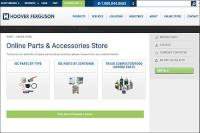 Hoover Ferguson, the global provider of container, workspace and packaging solutions for the energy and petrochemical industries and general industrial enterprises, has launched a new online store.
Customers will now be able to purchase a variety of parts for Hoover Ferguson intermediate bulk containers and Enviro-Pak products, including compactors, balers, food grinders and compactor bags, online.
Hoover's senior vice president of sales and marketing, Arash Hassanian, says, "Hoover Ferguson is committed to increasing ease of access to our product and service capabilities. Our clients are continually looking to improve efficiencies, and in offering them access to an online store we make it easier for them to get what they need for the continual smooth running of their business."
Hoover Ferguson's online store can be visited at http://www.hooversolutions.com/store.html.