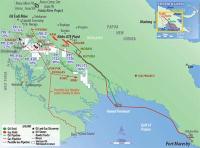 Horizon Oil Ltd. says that the Nama-1 exploration well in PPL 259, Western Province, Papua New Guinea (PNG), was spud at 1000 hrs local time Dec. 4.
The current operation is running in the 18.625 inch casing following drilling of the 24 inch conductor hole. The well is being drilled by Horizon Oil with Parker Rig 226 and is anticipated to take about 36 days to drill to a planned total depth of 11,266 feet (3,434 meters).
Nama-1 is located 12.4 miles (20 kilometers) due east of the Stanley Development, in which all wells found condensate-rich gas in the Late Jurassic Kimu and Early Cretaceous Toro Sandstones. If successful, the Nama prospect has the potential to be about the same size as the Stanley field (certified at 399 billion cubic feet of gas and 13 million barrels of condensate).