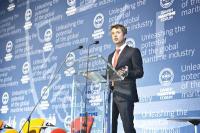 Maritime key leaders, ministers and leading experts from all around the world will be accompanied by the Danish Crown Prince when they meet for the Danish Maritime Forum on 7-8 October 2015.
"We are very proud to announce that the Danish Crown Prince will attend the Danish Maritime Forum. It emphasizes his great interest in the maritime industry and the positive difference it can make for the world," says Michael Soested, Head of Secretariat of Danish Maritime Days.
At the Danish Maritime Forum the Crown Prince will have the opportunity to gain a comprehensive insight in some of the megatrends that could have a major influence on the global maritime industry and international trade in the future.
The Crown Prince is very familiar with the sea. He is a former member of the 'Frogman Corps' – the Royal Danish Navy's special operations forces, a skilled sailor and Rear Admiral in the Royal Danish Navy. At last years opening of the Danish Maritime Forum the Crown Prince stated that, "the maritime industry plays an essential role both for the global economy at large and for the wellbeing of people around the globe."