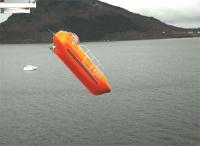 The HSE award for 2014 has been presented to the Draupner lifeboat project carried out by Statoil and Gassco operations.
Due to the Petroleum Safety Authority Norway (PSA)'s new regulations, which come into force in 2015, Gassco and Statoil established a project to replace the lifeboats on the Draupner S riser platform in the North Sea.
It turned out that installing the only available authorised type of craft would require major structural alterations to the platform. Such installation would also involve significant costs and HSE exposure. For this reason, the potential for upgrading the existing lifeboats was investigated.
Calculations, simulations, model trials and full-scale tests at Marintek and Harding Safety confirmed that it was possible to upgrade the existing craft. This was achieved through a number of improvements; reinforcement of the hull, new and larger engine, improved manoeuvrability, new seats and safety harnesses, and changes to operational procedures.