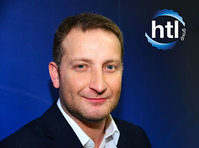 Controlled Bolting OEM, HTL Group has appointed Phil Jarvis as Global Sales Director. Joining HTL Group from within the industry, Jarvis brings with him 15 years' experience in the bolting sector and vast global distribution expertise.
Jarvis began his career with Hydratight in 2002 and over the course of his career has held various Sales and Engineering Management roles achieving his Chartered Mechanical Engineer status in 2009.
Harnessing his previous experience and industry knowledge, he will be primarily focused on developing both instant key account and Distributor OEM channels for the Group.
Jarvis comments, "I am delighted to be joining HTL Group in my new role. The HTL brand is strong and well-established, and our product range is both comprehensive and of excellent quality. But what impresses me most is the team; there is an infectious energy and drive to succeed amongst all of the HTL staff, and their dedication to providing world-class customer service is second to none."
"There is massive scope for HTL to continue to grow, as it has done successfully over its history. I am both excited and very much looking forward to ensuring my input assists this growth into 2018 and well beyond," he adds.