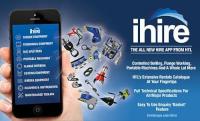 HTL, supplier of controlled bolting, flange working and portable machine solutions have launched another bolting industry first; the rentals app; ihire.
ihire follows the recent release of the new rentals catalogue from HTL, both featuring a comprehensive gallery of HTL's readily available product range to solve the everyday and more complex challenges faced in the industry.
Free to download, ihire makes equipment availability as simple as possible by providing instant and easy access to HTL products from your smart device. A built-in enquiry basket functionality allows users to easily add products to a basket and submit the enquiry directly to HTL.
The user friendly HTL app features product categories such as torque equipment, tensioning equipment, nut splitters, portable machines, flange working, subsea, flushing instruments, maintenance tooling and many more complementary product lines suited to a range of sectors.
Known for delivering a customer driven rental portfolio in parallel with innovative new products, the dedicated HTL app was a natural step to continue the journey of commitment and growth.
Stephen Jones, CEO HTL Group comments, "Our aim is to stay ahead of the game by serving the market with ways to instantly and easily access efficient and safe products. I feel ihire offers this to existing and prospective customers and is another example of our commitment to industry with our customers and markets in the forefront of our minds."