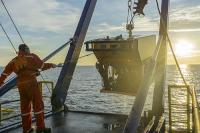 UK manufacturer Hughes Pumps has recently supplied two specially engineered high-pressure pumping systems for sub-sea water jetting maintenance at extreme water depths.
The two pumping systems, mounted on Remotely Operated Vehicles (ROVs) are being used up to 3,000 metres subsea, for a variety of cleaning, cutting and trenching applications, as it is neither possible for divers to work at such depths or practical to run high pressure hoses from the surface to such extreme depths.
The company's success with this specialist type of application over the last ten years has been due to a clever modification of standard pump materials which provides adequate corrosion protection to prevent seawater from breaching the crankcase oil seals and contaminating the lubricating oil. At 3,000 metre depths the ambient seawater pressure is 300 bar (4,350 psi), which means the pump requires some clever engineering to protect it.
UK manufacturer Hughes Pumps has more than 45 years experience in the manufacture and supply of High Pressure Water Jetting Equipment for subsea water jetting applications to 3,000 bar and 375 kW (43,500 psi and 500 hp). The company is one of the sectors leading suppliers of pumps for seawater pumping at high pressure, for which the pump heads and wetted components that are manufactured in 316 or Duplex stainless steel to provide corrosion resistance.