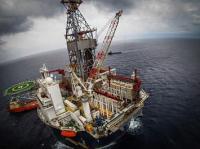 UK manufacturer Hughes Pumps has recently supplied three of its HPS2200 high-pressure jetting units to a UK rental company for sub-sea water jetting maintenance on oil rigs working in the UK's North Sea.
The Hughes Pumps units are predominantly being used for subsea cleaning and cutting using hand-held zero-thrust jetting guns, however they will also used at extreme water depths for automated cleaning in conjunction with Remotely Operated Vehicles (ROVs).
The HPS2200 units' performance is impressive, delivering 83l pm at 1000 bar (22 gpm at 15,000 psi) that's convertible to 30lpm at 3000 bar (8 gpm at 43,500 psi). The units, fitted with Rigsafe Volvo engines with spark arresting exhaust silencers and Chalwyn valves, are mounted in DNV 2.7-1 certified offshore containers.
UK based manufacturer Hughes Pumps has 45 years experience in the design and manufacture of high pressure, positive displacement pumps and water jetting equipment used in some of the world's harshest environments in industries as diverse as offshore oil and gas, manufacturing, ship maintenance and contracting.
The company supplies pumps for seawater pumping at high pressure, for which the pump heads and wetted components are manufactured in 316 or Duplex stainless steel to provide corrosion resistance.