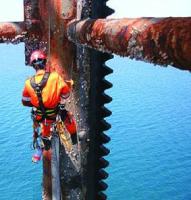 UK based high-pressure water jetting/pumping systems manufacturer Hughes Pumps has recently supplied three specially commissioned and precision engineered HPS2200 DNV Containerised Water Jetting Units to one of the Oil & Gas sector's leading offshore rental companies.
The water jetting units will be added to one the World's leading specialist rental equipment fleets, for use by specialist contractors typically for subsea cleaning and cutting on offshore Oil & Gas rigs in the large area of the North Sea between the UK and Western Europe.
The Hughes' systems have been built around HPS2200 pumps that are suitable for pumping seawater with a performance of 83lpm at 1000bar (22gpm at 15,000psi). Hughes' unique integral reduction gearbox and SAE engine adaptor, offered on all Hughes pumps, allow for an extremely compact installation that reduces the equipment footprint to a minimum.
Volvo Penta engines with ATEX spark arresting exhaust silencers and Chalwyn Valves fitted, with the pumpsets mounted in dual certified DNV 2.7-1/EN12079 offshore acoustic containers having a maximum noise level of 85 dBA at 1m. Considering the 150kW (200hp) rating of the pump-set and the low noise levels the containers dimensions were limited to 3.8m long x 2.4m wide x 2.6m high x 8,000kg (150" x 94" x 102" x 17,600 lb).