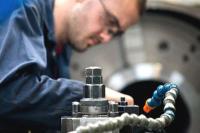 Hunting Energy Services has won $18million (USD) worth of contracts to supply wireline equipment to clients in the Far East as the Aberdeen-based firm targets further international growth.
An agreement with Malaysian oilfield services company Deleum Oilfield Services is among the significant new deals in the region for the company, which is part of the global Hunting PLC group. A number of the group's divisions, both in the UK and the US, will be responsible for manufacturing the equipment.
Stewart Barrie, Asia Pacific well intervention region manager for Hunting, said: "We are delighted to have concluded the deal with Deleum and look forward to working with such a well established company in the region and to providing continued support to their operations in the region for a long time.