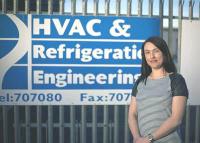 HVAC & Refrigeration Engineering Ltd, a provider of manufacturing, design and engineering services in hazardous and harsh environment products, has appointed a new member to its board of directors as the company looks to maintain its current strong growth.
Angela Thain joins the company board as its projects director and will be responsible for overseeing the successful delivery of all projects the company undertakes.
Joining HVAC & Refrigeration Engineering Ltd with more than ten years industry experience, Angela is looking forward to helping the company continue its stellar growth.