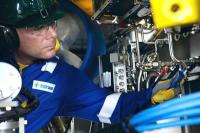 Aberdeen-based Hydrasun has invested significantly in a range of Parker Instrumentation products in 6Mo super austenitic stainless steel material, to meet customer demand for components with superior corrosion resistance.
The company has invested £1million in further broadening and deepening its family of Parker Low, Medium and High pressure products adding over 200 new lines in 6Mo material across a complete range of Tubing Fittings and Valves.
This investment in 6Mo components is in direct response to customer requirements for high quality materials that extend the service life of their assets whilst improving safety, reliability and integrity performance. All of the products are NORSOK compliant and the superior high strength stainless steel, which provides resistance to pitting and stress corrosion cracking, make them ideal for corrosion resistance in harsh, high salinity environments.
This initiative complements Hydrasun's long and extensive association with the Parker A-Lok and Autoclave brands, further highlighting the company's focus on supporting the standardisation of material specifications across the industry and reducing customer lead times through off-the shelf availability.