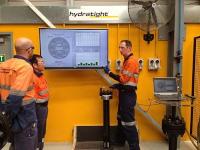 Hydratight's Mechanical Joint Integrity training facilities in Perth, Australia have been certified as "excellent" in an audit by the Engineering Construction Industry Training Board (ECITB).
The firm's facilities at Jandakot were tested on 40 points including the training centre, facilities and accommodation for proposed provision, lesson plans and materials as well as course and workshop resources.
Hydratight has been an ECITB Mechanical Joint Integrity (MJI) Approved Training Provider in Australia, Singapore, Malaysia, Indonesia and Korea since August 2015. The ECITB licensing criteria specifies audit of all ATP's on an annual basis to ensure technical training standard compliance, consistency and continual high standards.
A report produced by the ECITB auditor stated that Hydratight has created "an excellent training facility for delivery of the ECITB MJI training courses and technical tests".
David Alsop, Technical Training Instructor, Hydratight, says, "We are delighted to have continued our approval by the ECITB as an Approved Training Provider for the Mechanical Joint Integrity training and technical testing program. We reviewed the audit as a team and believe it could not have gone any better. We aim to deliver the world's best MJI programmes on every site using comfortable, well-catered theoretical and practical training facilities. The audit suggested we surpassed expectations in numerous areas, including our practical training provision and resources within our training rooms."
Jason Riley, Business Development Manager, ECITB, says, "The ECITB is delighted to approve Hydratight's world class MJI training and testing facility in Perth Australia. Hydratight is an experienced approved provider delivering ECITB MJI training across South East Asia, Middle East and in the UK, I look forward to working with the Hydratight team to support their delivery in Perth Australia. The ECITB approved MJI training courses, and technical tests, are a method to train and validate the skills of individuals in specialist bolting techniques to recognised global standards. The ECITB approved MJI model is vital to our industry. The training and testing increases competency levels and helps to reduce the risk of major accidents."
"A large number of companies and clients worldwide have adopted the ECITB approved MJI scheme to ensure individuals are both trained and competent to carry out work on specialist bolting activities," adds Riley.
All global Hydratight MJI college facilities are modelled on those within the UK headquarters and lesson plans are aligned globally and managed by Jason Barnard, Global Technical Competency Leader. All course materials are controlled and issued through the Hydratight OSHENS document management system to ensure consistent delivery.
The ECITB MJI training courses and technical tests cover isolation, dismantling techniques, component inspection, alignment, assembly and tightening of flanged and clamped connections using hand torque, hydraulic torque and hydraulic tensioning systems. Hydratight offers a full suite of tools and portable rigs for training purposes.
The report also highlighted that Hydratight has excellent health, safety and welfare provision at its Perth facility.