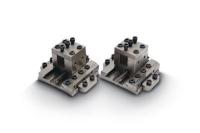 Hydratight is proud to announce updates and improvements to their QuickSlide tool block slides (TBS).
Available for immediate order, the QuickSlide marks an advancement in tool block slides to fit Hydratight's series of clamshells.
Tool block slides mount directly to the face of the clamshell and accept an array of Hydratight bits for cutting and beveling pipe. The product update was made to allow technicians the ability to quickly adjust the mounted position of the TBS by moving the internal position of the bolts to the outer edges.
While making these ease-of-use improvements, Hydratight included several other changes to improve both the functionality and performance of the TBS;
External side mount clamps; these now require just two revolutions of the screws to adjust the slide position One adjustable gib, which allows for easier and faster set-up A backing plate on the QuickSlide increases the rigidity of the tool holder The lengthened tool holder allows for more gib contact Increased width to the tool holder ensures heightened strength All fasteners now use the same allen wrench size