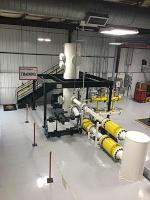 Hydratight has reinforced its long-term commitment to employee training and development with the opening of a global Joint Integrity College (JIC) at Red Wing, Minnesota, USA. This is the second college to be established by the company which opened its first JIC in the UK in November 2014.
The new purpose-built facility includes two classrooms and a full site simulation practical area. The college will enable the effective delivery of Hydratight's extensive joint integrity assurance programs which include bolted joint integrity, on-site machining, on-line pressure services, heat treatment and its ASME PCC-1 Appendix A training and qualification program.
This new JIC confirms Hydratight's ongoing commitment to further develop its internal competency assurance program and deliver industry best practice programs by embedding industry guidance and site simulation into all training programs.
The JIC also provides a facility for Hydratight to deliver effective product demonstrations, interactive customer training and open days and introduce new workers to site-based scenarios in a controlled environment to maximise their knowledge through a focused learning program.
Jason Barnard, Hydratight's Global Technical Competency Leader, says, "Hydratight has been a leading training provider in the area of joint integrity assurance for more than 20 years. Construction of our new Joint Integrity College in Red Wing will help to further develop the skills of our employees and customers in the area of joint integrity assurance."
"This project proves our long-term commitment to the region and increases our capability to continually develop the competency of our employees, ensure quality assurance for our customers and reduce incidents and accidents across the industry," adds Barnard.